12.07.2019 / AGH UNIVERSITY OF SCIENCE AND TECHNOLOGY SPRINT
8 classes, 5 floors, 2 races, 2 buildings!

We are pleased to inform that the registration for our additional event starts as of May. What we are planning is:

– prelims
– finals A in a form of handicap race
– finals B for all that did not get to finals A
Similarly to last year, we are competing in 8 categories. This time everyone will get to run twice! There is a limit 50 runners per category. The attractive prizes are awaiting the winners, the way they will be distributed depends on the number of registrations.
classses:
W M Youth (WM14-18)
W M Elite
W M Masters (WM35-49)
W M Super Masters (WM50+)
entry fee:
| | | |
| --- | --- | --- |
| | to 31.05 | after 1.06 |
| W M Youth, Masters, Super Masters | 30 PLN | 40 PLN |
| W M Elite | 40 PLN | 50 PLN |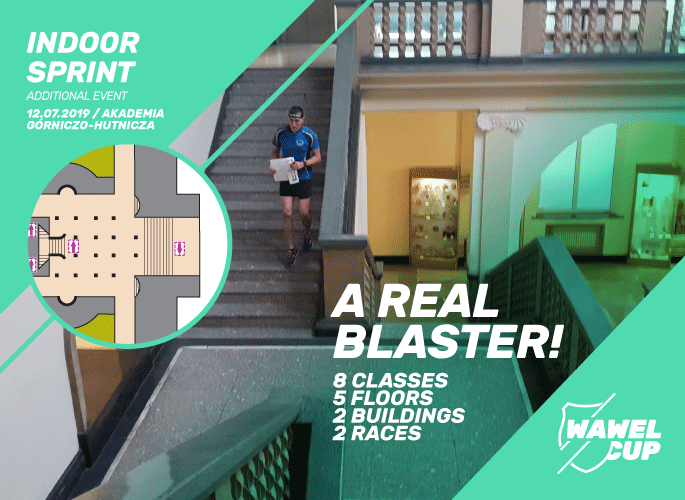 Once you fill in and submit the registration form, please transfer the proper payment to the following bank account:
Bank account owner: WOJSKOWY KLUB SPORTOWY WAWEL
Bank account number: PL 26 1090 1665 0000 0001 3605 9803, BIC/SWIFT WBKPPLPPXXX
Address: WOJSKOWY KLUB SPORTOWY WAWEL, ul. Podchorążych 3,30-084 Kraków
transfer title: WAWEL CUP, personal name&surname and club name
We kindly ask you to notify us about the need for invoice. e-mail: zawody@wawelcup.pl
As per regulations, the registration fee is non-refundable.
* Indoor Sprint is an additional race, and will not be included in the overall classification of the Wawel Cup.
MAPPER: PIOTR PIETROŃ
COURSE PLANNER: PIOTR PIETROŃ